TR-710 MD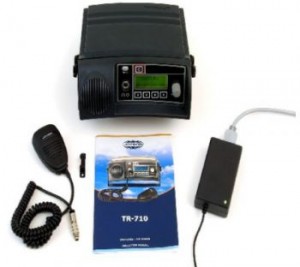 Total 760 Channels, 64 preset. VHF/AM transceiver.
Adjustable output power 10W (40 W PEP),  25/8.33KHz spacing in the band 117-137MHz, synthesizer, built-in loudspeaker, rugged metal chassis. Operates from 12-15V DC.
The unit complies with ETSI specifications EN 300 676 technical characteristics EN 301489 EMC standard Solid state and high performance quality radio that meets all the demands in the ground to air communication field.
The transceiver is designed for desktop, vehicle and portable use.
Complies with ETSI EN300 676 standard
25 kHz and/or 12,5/8.33 kHz.
Compact rugged cast aluminium chassis.
Min. 10 watt output power.
Built-in loudspeaker.
Set up via PC.
Battery level meter.