M/Y PETARA II Wheel House
M/Y PETARA II, Started to be built in 2004 in the same Shipyard as replacement of PETARA I for same Shipowner.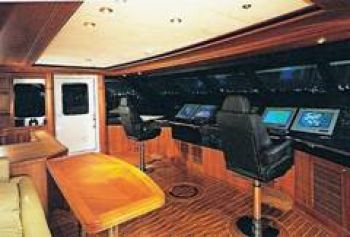 ELINE after the termination of their agreement with Northrop Grumman-Sperry Marine (ex Litton Marine Systems) promoted and suggested to the owners the Kelvin Hughes Equipment. Further to Owners acceptance, ELINE in cooperation with Kelvin Hughes official Agent in Turkey Messrs Electrodeniz supplied the Kelvin Hughes package which includes:
Kelvin Hughes Manta 2000 ARPA TFT Radars type 2000A/1/6U and 2000A/2/6U
Kelvin Hughes Manta 2000 ECDIS TFT
Kelvin Hughes Multinational TFT Display, as conning and Engines alarm and monitoring display.
Kelvin Hughes SEM2000 Autopilot & Track Control System
Kelvin Hughes Navigat 2100 Fiber Optic Gyro
Kelvin Hughes Jupiter Overhead Magnetic Compass.
Kelvin Hughes AIS type NIS2002 MK2
Kelvin Hughes EML500EM Log.
Except the Kelvin Hughes package, following equipments has been supplied:
SKIPPER GDS101 Navigational Echosounder
SAILOR GMDSS Sea Area 3, with 1x Inmarsat C and 1x Inmarsat combination C and M stations.
Jotron GMDSS Safety package
Northstar 941X DGPS Receiver
KVH GyroTrack Azimuth Digital Electronic Compass
The total CIF cost of equipment exceeds the amount of € 300.000