VHF-Marine Radios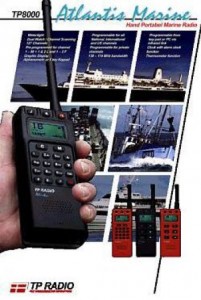 TThe TP8000 Atlantis Hand-portable radio is a unique product, with a design that combines outstanding mechanical robustness with state of the art technology. The TP8000 Atlantis is a type-approved Marine Radio and it is also type-approved for ON BOARD communication (UHF version). Being watertight, it is the ultimate communications tool for the harsh marine environment.
Up to 127 channels can be programmed in the TP8000 Atlantis Atlantis Marine. All the standard European marine channels are pre-programmed. The additional channel capacity can be used to add some regional variant channels, such as US channels, UK channels or private channels. The functional design of the Atlantis Atlantis Marine combined with the product's outstanding mechanical robustness and watertight construction (submersible into 1 m. of water (IP67)) makes the TP8000 Atlantis Atlantis Marine a perfect communication tool in any marine environment.
Menus that are accessible from the keypad: DTMF, Abbreviated Number List, TX Power, Clock. Programming, Setup & Service.
Sub-Menus to Programming menu: Channel (number, name, frequency, deviation, squelch & ID)
Sub-Menus to Setup menu: Alert tone, bar graph function, auto display back light on / off, internal / external speaker - microphone & general version info.
Features
Watertight: submersible into 1 m. of water.
Programmable: With PC via the cordless infrared link. Almost all parameters are also programmable from the unit's keypad.
Full keypad version: The keypad enables DTMF dialing and easier channel selection and composition of alphanumeric messages.
6 key keypad version: Same functions as full keypad version but no DTMF dialing
Graphic display: Indication of selected channel in large, bold characters. Also display of composed or received text messages. Bar graph indicator for battery status or RSSI.
127 channels: Freely programmable to include a number of private channels
Channel Scanning: Channel 16 dual watch or up to 127 channels
The radios comply with the 1999/5/EC directive. The standards concerned are EN 300 178 - 2, EN 300 279, ETS 300 086 & 300 219. CE approved according to the EC directive 89/336/EEC. Dust & Watertight according to IEC529 Degrees IP67.